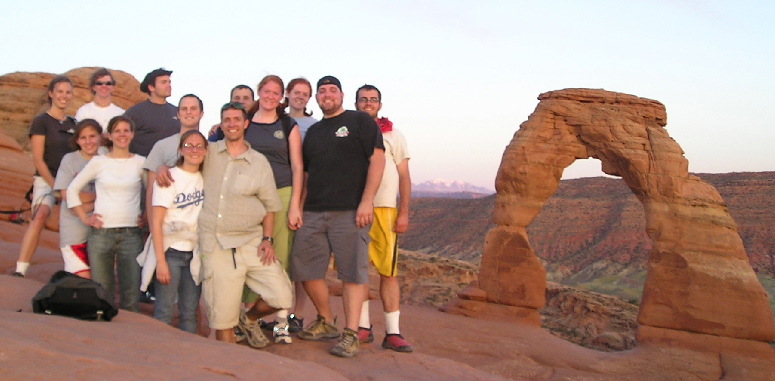 Our BYU Engineering crowd, plus a few extras and appendages. Left to Right: Rachel, Carrie, Trevor, Brittany, Alan, Phil, Sharon, Bryan, Daniel, Katie, Maggie, Garret, Derek. Becky and Adam showed up that evening after sunset. James and Jen stayed at home with their new kid Jonah (only a couple weeks old).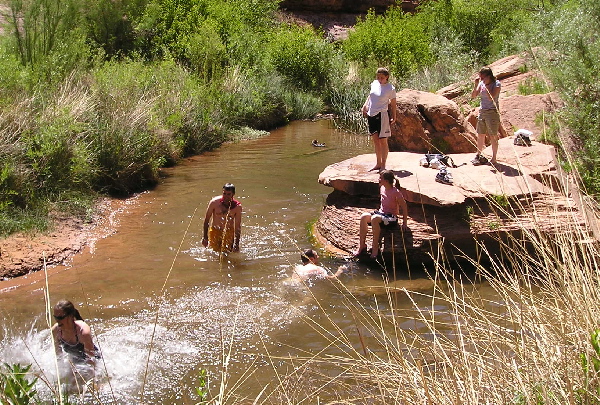 Swimming hole up Negro Bill Canyon. Just a short drive up the river North of Moab.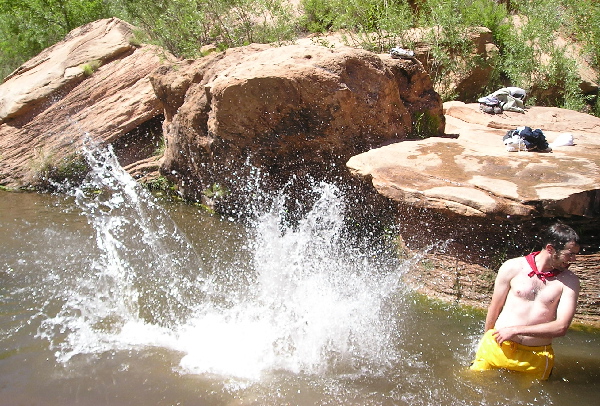 It was super shallow, but Phil had this horizontal drop that made for a soft landing and a good splash.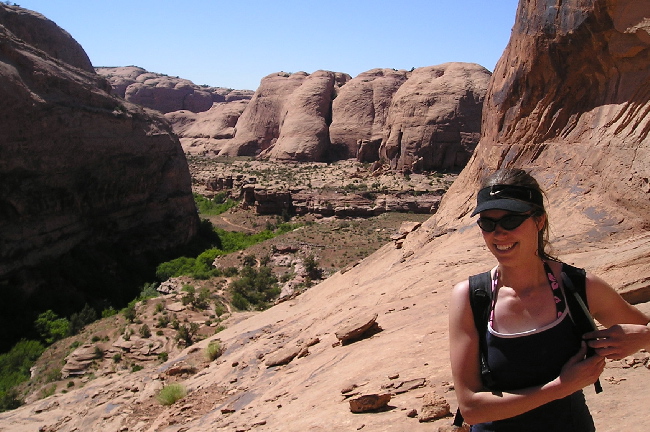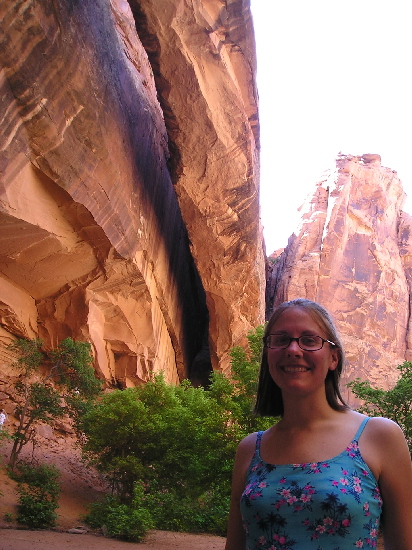 Sharon is a new addition. An Electrical Engineer. Brilliant, dedicated, and laid back.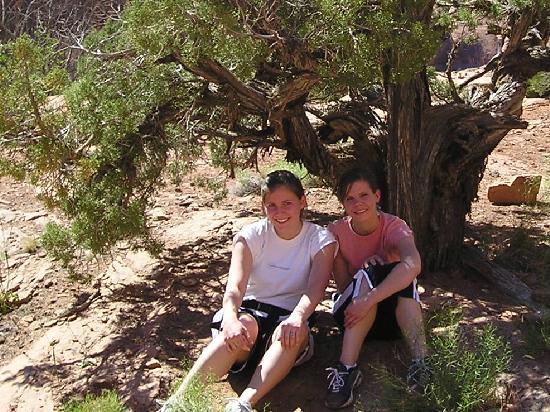 A break from the sun.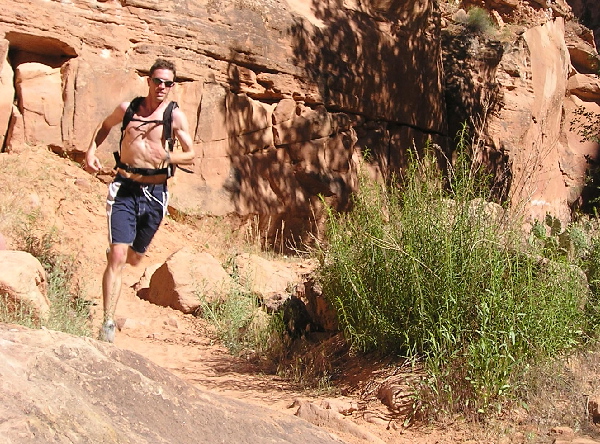 There's nothing like moving fast down a canyon.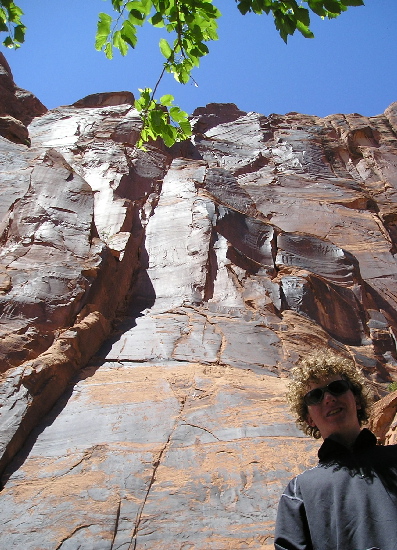 Wall Street. Good climbing. Horrible heat in the morning. Wait until 1:30 to show up.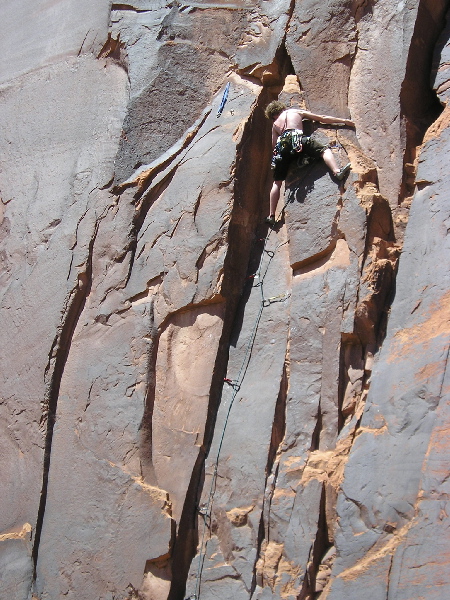 Pine Hut: 5.10b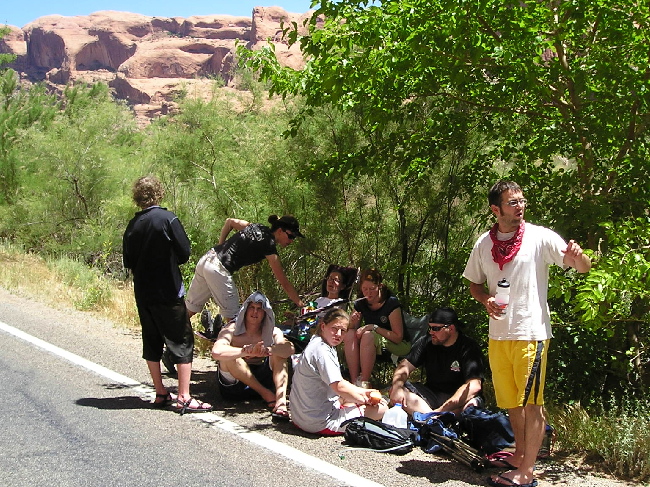 Like I said: HOT. Everybody took cover under the little shade available while others were on the rock.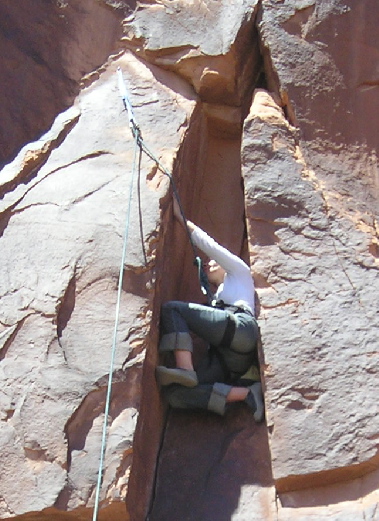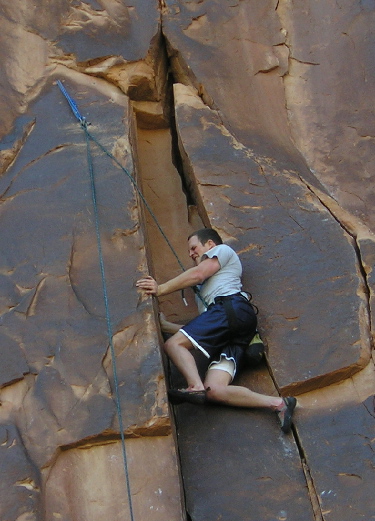 Same Chimney. Brittany fit nice and snug. Phil had a little more difficulty with the dimensions. Both made it though.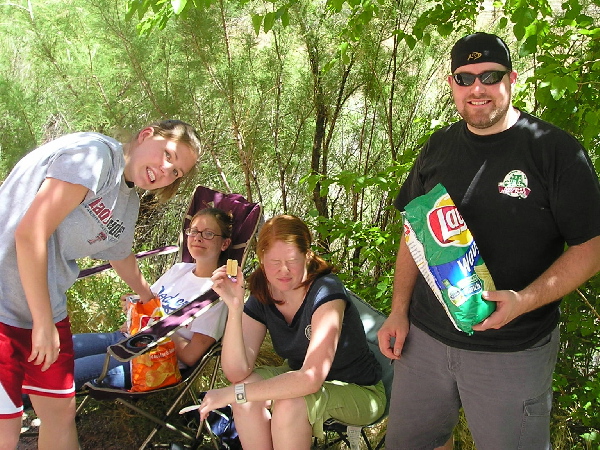 It's funny how many different expressions you can get in one picture.
Garret is on the right. He's the famous "Ear Doctor"
Katie
is always writing about. Through Katie, all you hear is the cutsie relationship girly stuff. As a normal individual though, he's pretty cool. Just your average decent, intelligent, respectable, guy living a good life.
Live Lizard Earrings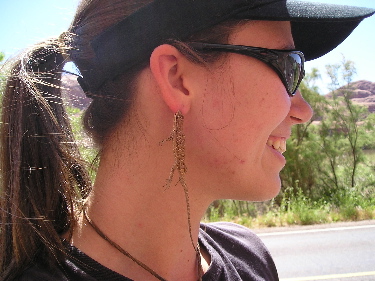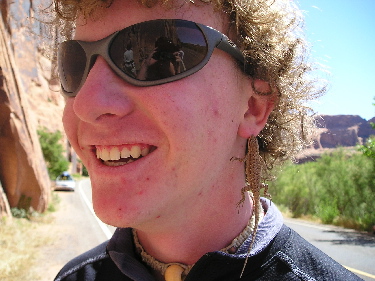 The latest in desert fashion for both guys and girls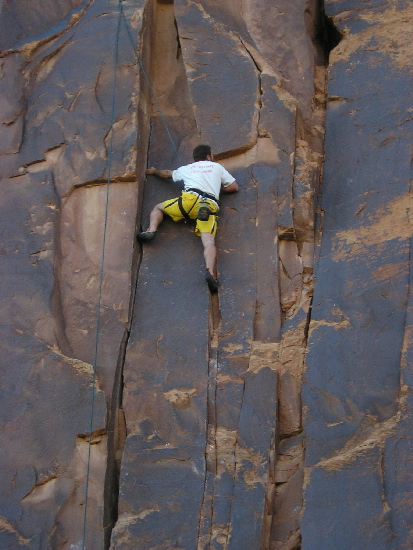 Derek working his way up.

The Belayer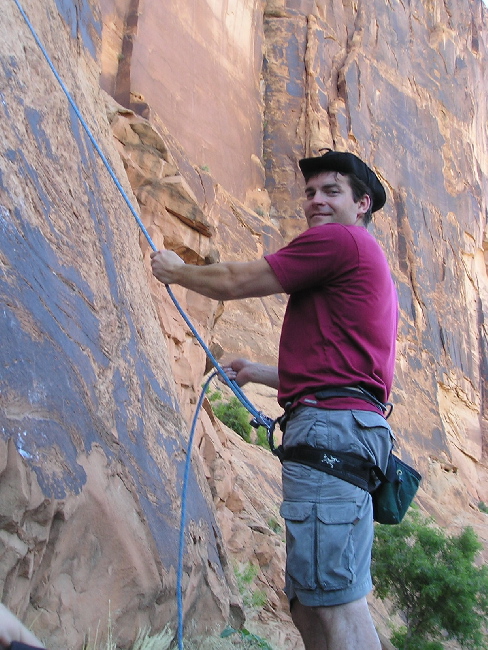 A big picture for a big man.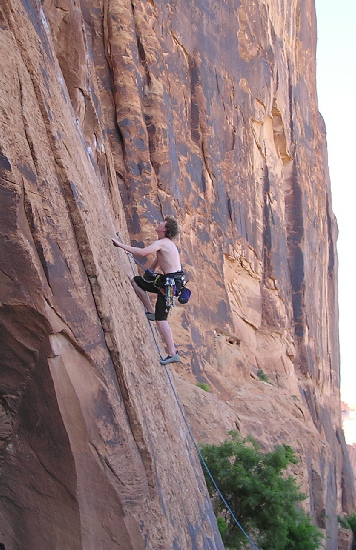 Trevor
on his first lead. A thin slab followed by a crack through a short roof.
5.8 (?)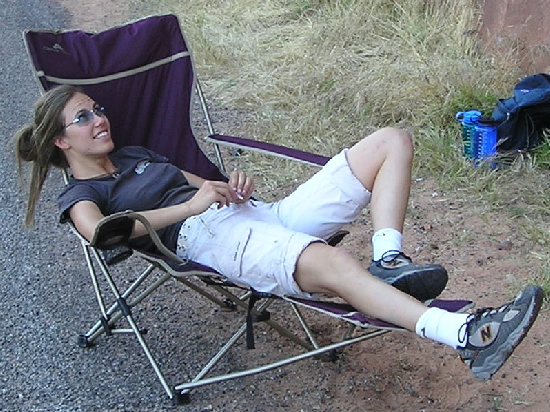 * * *

Delicate Arch at sunset.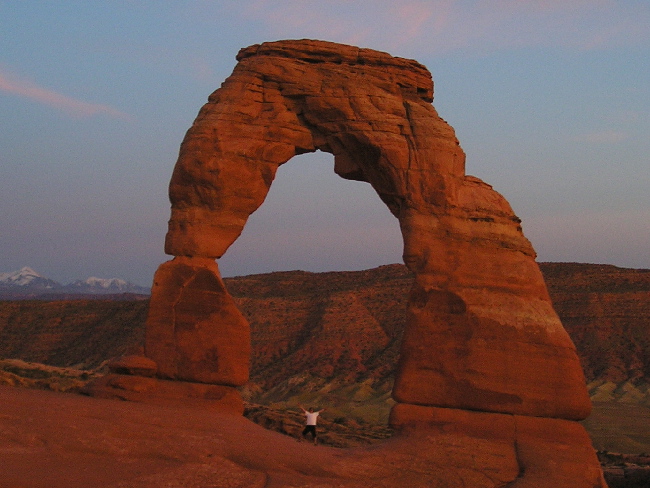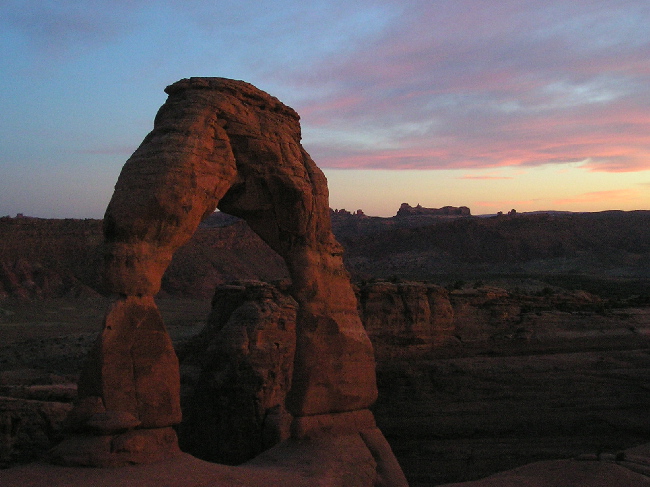 I like how the colors came through on this.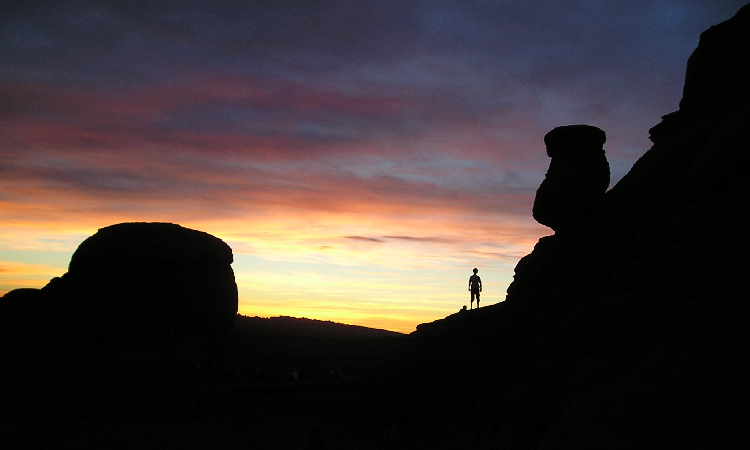 Usually a camera can't do justice to a view, but this came through beautifully.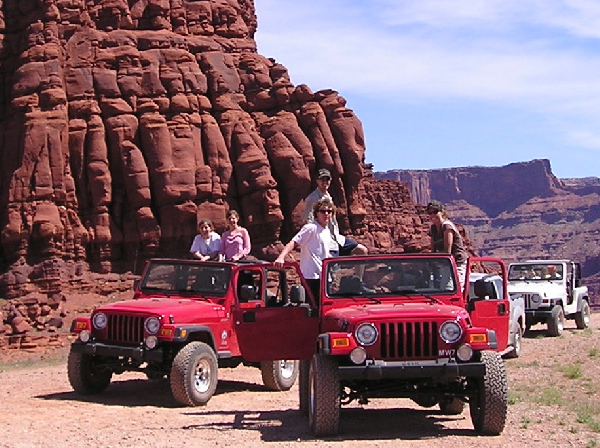 Becky came down with her Jeep, Garret with his truck, and we rented a couple other jeeps to wheel around. We found three places there to just walk in and rent. It's pretty convenient and reasonably priced if you can't justify owning a Jeep year round.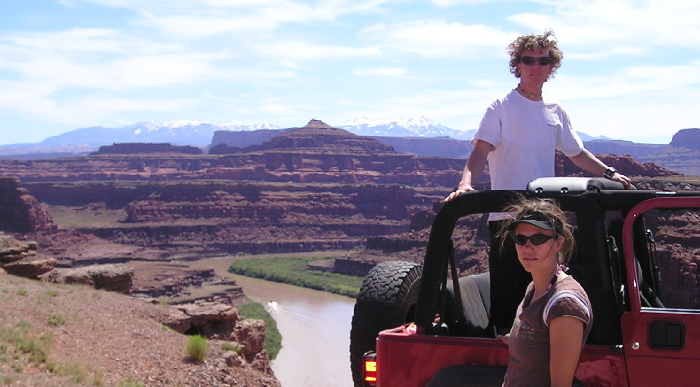 Rachel has got to be the best 4-wheeler I have ever been out driving with. You wouldn't expect it from a goof ball physics major, but she obviously learned well through the years hunting with her Dad.



My camera stopped cooperating, so we don't have any quality 4-wheeling pictures, but we had a good time.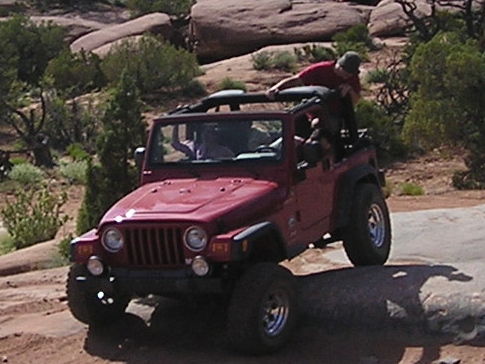 Little Canyon Metal Crusher, off the Gemini Bridges trail.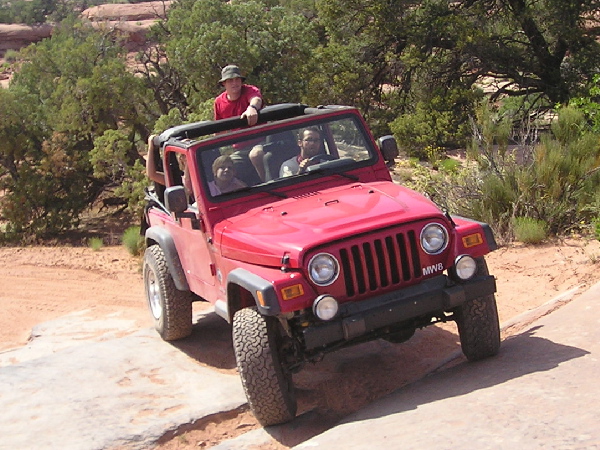 * * *