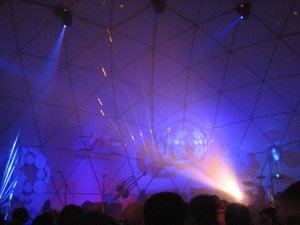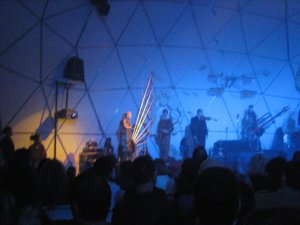 Karen grabbed a few of us and we headed to this Mass Music Dome thing.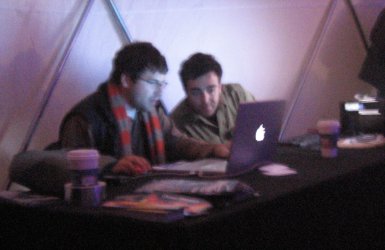 (the code behind the program)

It was worth going to. They used these 60' lines strung up in the place to make "earth harps". The whole thing was this gathering of the coolest instruments and lighting you can think up, and putting on a show.


---

I got to talk with Peter Diamandis last week (founder of the X Prize). We talked about near and long term space plans, but before I talk about that, there was a lot of other interesting stuff that came from it.

"Evolution through Competition"

Walking into the X Prize ... 'offices' would be the word, but that doesn't communicate the idea. The whole enviornment is that of a grass roots, lean, high speed, can do, centroid of people building projects elsewhere in the world. They don't come to the office to be in the office. They come to the office to leverage their power for completing their projects that exist outside the office. The few pictures on the walls are of recent accomplishments, and they're surrounded by papers, lists, and schematics of future accomplishments in the works. Everything on the walls, desks, and floor space has a functional purpose.

I ran into Brooke Owens, a friend I hadn't seen since last year during the X Prize. She spent the last eight months in Mojave building a scale composite model of SpaceShipOne. She gets stoked about showing it to little kids, and them being awestruck and excited at seeing a

real space ship

. The cool part is... what they're looking at

really is a real space ship

. I also met Chelsea Sexton. Chelsea is a new addition to the team, organizing a competition similar to the Ansari X Prize, but focusing on Alternative Energy. She has spent several years in the automotive alt fuel industry, and thinks the new hybrid cars are good, but "they're not good enough yet." Seeing Chelsea focused on this new branch brought another dimension to the X Prize principle "Evolution through Competition."

This ties directly into a leadership principle I was reading in Jack Welch's book. He quotes some famous literary work

On War

, speaking of how the generals approached war with a guiding principle. "They did not expect a plan of operation to survive beyond first contact with the enemy... strategy was not a lengthy action plan. It was the evolution of a central idea through continually changing circumstances." The central idea of the X Prize is this concept of Evolution through Competition. It is a guiding principle that is growing in application, and will create the future envisioned by those acting on this plan.

In this same segment on war, Jack notes the "

independent will

of the opponent." In war, an independent will acts in opposition, but the principle carries over to cooperative efforts. You cannot (and should not attempt to) control the will of those with whom you work toward an objective. You must undertake your objective with the clear understanding that at any turn, people who have joined your purpose may depart from the cause, may have differing judgment on the path they want to take toward accomplishment, and some may unexpectedly show up to contribute their thought and effort. The collective progress is the collective result of people of

independent will

.

Sometimes it's funny how progressive minds think alike. Peter Diamandis is interested space exploration as well as alternative energy. A few weeks ago I was at a lunch with Elon Musk, leader of SpaceX (they're currently on the launch pad with their first Falcon rocket) and he explained "When I sold PayPal, I was thinking about what I wanted to do now, and the two things that seemed like the best pursuits were Space Exploration and Alternative Energy. I looked at the two, and alternative energy seemed to have some natural economic drivers. Progress would be made in energy, so I decided to look further into Space Exploration."

I noticed a unique indicator in Elon, and it came up indirectly. One of the guys there asked what Elon has in mind after the Falcon rockets, particularly regarding plans for Mars. "Surely you have a notebook where you're sketching in your ideas for Mars." Elon speaks openly about plans for a rocket large enough to move substantial payloads to Mars, but his response was unexpected. "No. I'm focusing on getting these rockets working, and making them profitable. I don't know what I'll do after that."

I see this example as instructive for approaching life and accomplishments. In simple terms, it says "Keep your eye on the ball." At this moment, Elon has the power to create a family of rockets that can provide affordable man-rated access to space. He is focused on creating this necessary stepping stone. Without this step, he cannot have the power to create access to Mars. Without success in the Falcon rockets, planning for travel to Mars is nothing more than wistful musing. This is in line with the afore mentioned principle of guiding action around "a central idea through continually changing circumstances." Furthermore, he is living such that his goals allow for the independent will of others to play out as they choose. Elon succeeded with Zip2, then he reevaluated his circumstances, and succeeded with PayPal. After PayPal he did another evaluation of circumstance, and is now succeeding with SpaceX. After SpaceX, he'll take another evaluation and choose what to do.

This is exemplary of a recipe for success, but it is also a recipe for fulfillment in life. It is exemplary of genuine humility, coupled with genuine courage. Elon takes accounting of the reality of his capacity for power. He acknowledges where he has power, and just how far that power extends. He does not downplay his power, nor does he struggle for power beyond his reach. This is humility. Elon acknowledges the full capacity of the power he has, and he uses it for what he chooses. Setting out to develop a new rocket is no small task. There is a long list of failed rocket companies. Elon has the financial, technical, and organizational power to create a paradigm shift in civilization... and he acknowledges it in word and action. This is courage.

Fulfillment in life comes from

what we are

. Fulfillment does not come from what we are becoming, what we have become, what we have, or what we do. As individuals, we experience fulfillment in life/existence according to the extent to which we embody traits such as humility and courage. On the flip side, we experience degradation to the extent we fall into vices such as Vain Ambition. Vain Ambition can never be satisfied. Vain Ambition is the carrot on the stick. It can keep people driving and moving over great distances, resulting in great accomplishments, but so long as you are chasing a carrot on a stick, you will never be fulfilled. Elon exemplifies these traits of humility and courage, and averts the pitfall of vain ambition, by keeping his focus on that which he has power to influence. He's not chasing a grand dream that he may or may not have the power to reach. He pursues the greatest desire he has the power to create. He's aware that his success will lead to more power, but does not waste effort on plans beyond his present power. He is living in the now, living toward his vision of the future.

Elon didn't speak of any of this, so we can't project that these are his thoughts / beliefs. These are just my inferences, made from my own observation and thoughts.

Tying all this into my conversation with Peter, we find the common principles of focusing on the present objective, the individual will, and see it applied to changing circumstances. Peter gave up on NASA and the large corporate players in manned space twenty years ago, and he didn't veil his judgment that any time I spend with such companies will be time wasted. Under the conditions Peter had twenty years ago, he chose to take the path he has taken, and he has been highly successful with it. Peter's conviction is strong, his case is clear and sound, and it moved me to seriously reevaluate the feasibility of my own plan. In the end, I learned a few things and developed a more accurate vision of what I want to accomplish in both the near and long term.

Elon came to play in space after he had been highly successful in other fields. Peter entered the space arena early on, and has created opportunity after opportunity to drive incremental progress. My circumstances are different than those of Elon and Peter. I do not carry the passion for space that Peter carries. That doesn't mean that my work will be less effective. It is not our passion for a cause that makes us effective, but our work for a cause (this points merits a whole entry in itself). My objective regarding space exploration is more akin to Elon's objective. It looks like the best playground/workfield to spend my time in. I choose space, and at any given time, I may choose something else. For now, this is my focus. Given my present horizon of opportunity, my power to act within this horizon, and my power to influence what my horizon will be in the future, I have refined my plan of action.

The process of finalizing my application to MIT, in conjunction with evaluating my plans after speaking with Peter, was very valuable. Previously, I saw my application to MIT as a means to an end (getting accepted). As it tuns out, it became a highly valuable tool for defining my plans, and how I will achieve them. Serious reevaluation, under scrutiny for realistic feasibility, can be somewhat intellectually demanding (at least for my little mind). Integrity is a valuable trait. In this case, integrity is the trait that led to the thorough development of what I feel is an entirely feasible plan, which I am ready and positioned to carry out. There were several things I could have written that would have been just what the admissions committee wanted to hear... and I could argue that they were real... but they weren't. They would have been an act. Giving in to the temptation to submit an application that was "good enough" would have got me admitted, but I wouldn't have developed the focus of purpose that I have gained by maintaining full honesty in the process. This only reinforces my belief in the value of the central idea of integrity that I continually apply to all circumstances. Convenient, isn't it?

I designed my path such that it is precisely in line with the objectives of MIT's LFM program, Northrop Grumman's objectives in sponsoring me for the program, and my personal objectives for the life I want to experience. Conveniently, this is more concretely feasible than the previous partially vague plan I carried.

And now I'm bored with writing this. I thought I was going to outline my plan, and my case supporting it, but it looks like that won't happen... at least not now. But that's no big deal. The "evolution of a central idea through continually changing circumstances" is the real source of the plan anyway; not a "lengthy plan of action" (even though the lengthy plan of action has certainly been made... and is the tactically necessary component of all this theory I've been spouting). And now that I've written this, it's apparent that close to nobody will want to read any of it. If you made it this far, fire me an email so I can laugh at knowing that somebody endured this whole entry. It's been worthwhile for me. As for you, I hope you enjoyed it, or stopped reading when it stopped being interesting.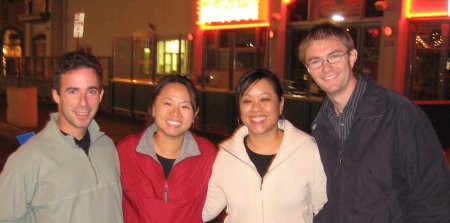 Mike: CalTech PhD, Karen: fun Space-Art Girl, Hannah: Art Girl, Scott: Thermal Eng at Beoing.